I have a Master's Degree in Education and I have always been fearful of teaching reading. I don't know if this is because I only had one class for teaching reading in all my years of college, but this has always stressed me out. Sweet Cheeks (4 years old) hit a wall with her reading. So when the Scaredy Cat Reading System Level 2 ($75) was offered for review, I snatched it up.
This reading system was written by Joyce Herzog. She is a teacher of elementary and learning disabled students. She is a speaker and her curriculum sets seem to be written with a Christian slant. She has other books (devotionals, parent tips, etc.) that she has written besides a teaching reading series. Be sure to click on the Review Crew link at the bottom to check out the other offers.
First Impressions:
When we received the package in the mail, the kids were excited! They saw game boards, a magnet sheet, and books. They were fascinated by a comic book that teaches the roles of the letters of the alphabet. The materials were basic looking. No real bells or whistles. That's not a bad thing. There were some typos and printing mistakes (especially on our magnet sheet) which made the product look like it might have been printed from someone's computer as opposed to a professional print job. But we dug into the material to see what treasures we would find. As you can see from the picture below, we received all kinds of goodies. The package we received is Level 2. Level 1 included identifying letters and the individual sounds. Sweet Cheeks is beyond that and reading simple texts, so I started her on Level 2. These sets do not have a set age, but they are for beginning reading, so it would be for ages 4/5 through 3rd grade.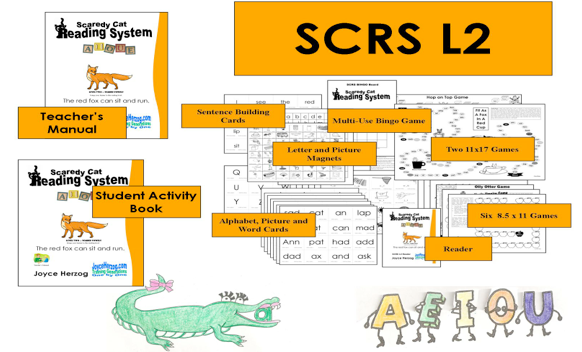 Using the Materials:
There was a lot of prep work before we could really begin. I was so thankful for my husband's paper cutter!! I cut out many flashcards. Then I had to sit down with the Teacher's Edition (TE) and see how this program worked. The more I read, the more bogged down I became. There was a lot to read. I like simple. The TE recommended an hour for reading each day. I never do an hour of reading a day. That's a long time for a 4 year old! BUT with this system there is reading practice, a workbook with activities, and games to play throughout the time period. The author also includes spelling and writing with this system.
How fast you plow through the reading and activities will depend upon your child. Herzog recommends that the student be able to read a certain number of words within a specified amount of time before moving to the next lesson. (Usually 30 WPM) During our review period we progressed through lesson 3. I found that Sweet Cheeks needs more time to practice these skills. This is good to know.
Each lesson begins with playing a CD, or reading the script of the CD. The new rules are introduced and examples are shown. Then to reinforce the lesson, there is a page in the reader, some workbook practice in the student book, the flash cards, the games, and other activity ideas to do until the student can pass the timed reading assessment. Once the assessment is passed, the child can move on. On page 33, the author reassures the Teacher that all of this takes practice. I'm glad she said that because I know there are things I missed when going through the lessons. But that's ok. We don't move on until the test is mastered, so I have time to learn the system.
I used Scaredy Cat in two ways. One, to help teach my daughter beginning reading; and two, to teach my son beginning spelling. I mainly focused on teaching reading, but whenever we played a game, I used one of the recommendations in the TE. With the games, the student could either read the word, or spell the word, to move to the next spot on the game board. So I had one child read and the other spelled. My kids really liked the games.
I was worried about using the flash cards, but there was no need. Sweet Cheeks liked going through the list of words and practicing. She'd rather do that than read from the reader.
Because I do a shorter amount of reading time, I ended up spreading the activities across the week, which I found worked well because Sweet Cheeks needed the practice. Lessons 1 and 2 went quickly and she stalled out on Lesson 3. We'll be doing more repetition for this Lesson. The author also gives tips if the student stalls, which is nice. I can tell Sweet Cheeks is reading the flashcards quicker and her word attack skills have improved. She has become more patient with herself because she has seen some success, and for that I am grateful.
Ending Thoughts:
Parts of the curriculum worked with our family and others did not. I found the Scaredy Cat system to be versatile so I could make it work. Sweet Cheeks did not like listening to the CD, and she wouldn't sit through the reading, so I had to improvise and quickly teach the new concept and then jump into the activities. She liked the games, the magnetic building words, and doing a select few pages of the workbook. I'm finding she likes word finds.
Recommendations:
I recommend that the author change the font for the capital "I" in all of the materials so that it has the bars across the top and bottom. My daughter kept trying to read it as a small "l." I would also recommend that the cards come cut and everything is ready to use. Perhaps this is laziness on my part, but when life is busy already it is nice to have all the parts of a curriculum ready for use.
The last thing I would recommend is that the TE be more user friendly. The curriculum starts out saying, "It's really easy to teach reading…It's that simple!" I didn't find it simple. I would place a "Materials Box" at the top of the page of each lesson listing all parts of the program needed for that lesson. There are a lot of words per page. And with the lesson being very driven by the TE, I found it difficult to have a smooth lesson without doing a lot of reading before teaching. I ended up skipping parts.
I will continue using parts of this program because I think it is giving Sweet Cheeks a good foundation for reading. I'm not as nervous about it anymore!
Please click on the banner below to see what other Schoolhouse Review Crew members have to say about Joyce Herzog Curriculum.