I resisted all the way: a new thing for me. . . . The fact is, I was a trifle beside myself; or rather out of myself, as the French would say: I was conscious that a moment's mutiny had already rendered me liable to strange penalties, and, like any other rebel slave, I felt resolved, in my desperation, to go all lengths. (Jane Eyre, Chapter 2)
Jane is an orphaned child, and her story begins, as indicated by the quote above, as one of an abused child beginning to find her own inner strength. Her story is one of a powerful woman, as she journeys to self-awareness and searches for love and her place in a complicated world.
About Jane Eyre
Jane Eyre is subtitled "An autobiography", and with a powerful first person voice, Jane Eyre gives an intimate look at Victorian England from a unique perspective. The romantic and Gothic undertones of the earlier century have mellowed into the glorious subtleties of Victorian realism: an orphaned child, life on the heath, and madness.
Jane Eyre was published in 1847 under a gender-less pseudonym: Currer Bell. Who was the mysterious Currer Bell, and why would he or she write such a scandalous book? For scandalous it truly was, with it's abused child emerging from childhood as an intelligent and self-minded woman who has questionable faith and is willing to stand up to her male employer as an "equal." Jane questions everything around her, and despite her childhood, she desires to emerge as the English lady her deceased parents would have wanted her to be. Jane knows her self-worth, and she's not willing to settle for something against her own morals or political understandings.
Jane faces a lot of conflicting opportunities in her life as a poor orphaned woman. Her aunt abandons her, and she, like Dickens' earlier Nickolas Nickleby (published 1838), must survive an upbringing in a horrible school environment where food is scarce and disease is rampant. Later, Jane finds work as a governess in an isolated estate on the heath. Her wit is sharp, and she certainly meets her match in her mysterious employer, Mr. Rochester.
Why Read Jane Eyre?
I believe those who have not met Jane Eyre miss an aspect of our current culture, as the themes and symbols are rampant in literature today. Of course, there are, as I mentioned, issues of feminism and politics as Jane and Mr. Rochester face off. There are the political issues in Jane's earlier childhood, with her abusive aunt and cousins and the poor living conditions in her school.
But much more fun to focus on are the atmospheric elements that give the book its spirit and help Jane's personality truly shine. The realistic but spooky elements include a cold old mansion at night, the wind blowing through the windows, and mysterious sounds echoing across the open heath. The color red, as well as fire, penetrate the book's scenes, and religious redemption is a central concern for Jane and her associates.
Jane Eyre has truly become a part of our culture. Popular contemporary fiction often embraces the issues and the story that were first introduced in Bronte's novel. After reading the novel itself, one may begin to see common themes and the basic undertones of the plot of Jane Eyre frequently repeated in current literature: The Eyre Affair by Jasper Fforde, The Thirteenth Tale by Diane Setterfield, and Wide Sargasso Sea by Jean Rhys are the most obvious, but others, like Rebecca by Daphne Du Maurier, echo the feelings and undertones of the story in a different era and with different characters.
Guest Blog Author's Personal Testimony
Reading Jane Eyre changes with each read. There are so many things packed into Jane's story. When I first met Jane when I read the book at age 13, I saw the book as a strange romance, with Mr. Rochester as simply a crabby old man. When I was older, I discovered he was a mere 30 years old, and the story of the unique woman's journey toward self-awareness replaced the romantic undertones, although I will never stop enjoying the romantic sides to the novel as well. Upon subsequent reads, different aspects of Jane's story have fascinated me. Life changes perspective, and Jane Eyre provides a wealth of perspectives with which to approach the text.
Charlotte Bronte's rich language provides a delight for the careful reader. It is not an easy text to read, given Charlotte's unique writing style. But as my own exposure to the book at a young age has taught me, it is a text to embrace throughout one's life. I will be forever grateful for my eighth grade teacher for handing me this book to read. I remember the moment of standing in front of her desk, begging for a new book to read since I'd finished the assigned novel already. She hesitated for just a moment before handing me Jane. I'll be forever grateful to her for her decision to do so, for meeting Jane Eyre has been one of the most enjoyable parts of studying literature for me, and I am glad I first read the novel from a young student's perspective.
After you have met Jane, you may want to read some more commentary about the novel at the following websites.
Victorian Web has extensive discussion of the various themes of the book, as well as of the setting, imagery, and characters. Spoilers abound!
Bronte Parsonage and Museum is the residence of the Brontes, and the foundation's website provides teaching ideas and resources for a variety of ages.
(The title image is of a postcard illustrating Mr. Rochester's first meeting of Jane, painted by Thomas Davidson. A sprig of heather from near the Bronte's parsonage lays across it.)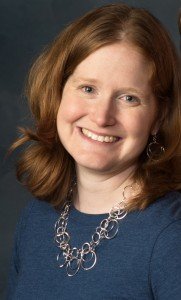 Rebecca Reid has been reviewing literature (especially Victorian literature) since 2008 at Rebecca Reads. She also now homeschools her seven-year-old son and two-year-old daughter, writing about their learning journey at Line upon Line Learning.