Teach the Bible,
one object lesson at a time
You can improve the Biblical knowledge and Christian worldview of children, one object lesson at a time. Help children ignite a love for God with their whole hearts with age-appropriate activities and fun conversations. 
Life is too short for mediocre lessons
Classroom Chaos is no fun
Be a better Bible Teacher
Use object lessons
Teach Christian Worldview using Object lessons
Improve the biblical knowledge of children
Want to start a weekly family Bible time? These object lessons will help you get started!
Need an object lesson to go with a specific Bible story? Browse stories here.
In charge of chapel or release time? These lessons are educational and fun!
Welcome to Future Flying Saucers
As a parent and a church leader, I know how hard it can be to find "no fluff" Bible lessons that are hands-on, creative, and fun. With 30 years experience, let me help you:
Teach multi-age groups
Use budget-friendly supplies
Focus on Bible teaching and Christian worldview
Books filled with simple to use object lessons for parents, church leaders, and teachers.
For more Bible Study, printables include inductive activities, scripture memorization, and more.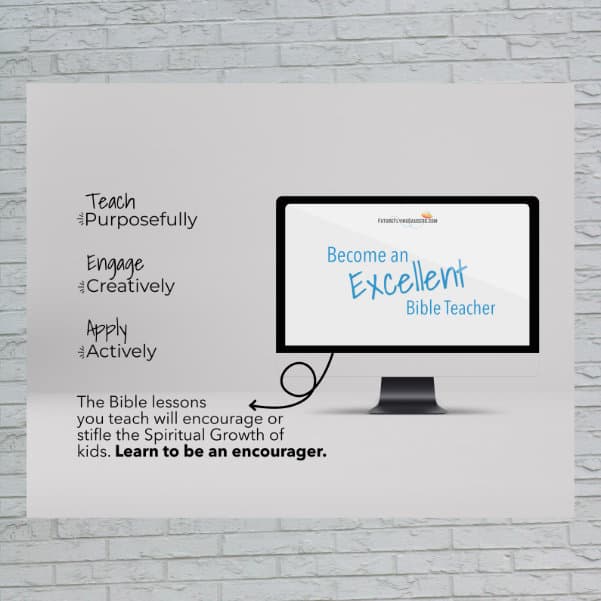 Your questions about Bible teaching answered! This online, at-your-own pace course includes 5 Bible teacher training videos, 5 instructional text sessions, reflection questions, downloadable notes, personal interaction with instructor, Bible teacher evaluation, and valuable bonuses.
How to teach an object lesson
Choose a Future Flying Saucers object lesson
Gather your materials, read, and practice the lesson
Teach an unforgettable lesson that teaches scripture 
Are you a veteran or new teacher?
Whether you want to change things up or aren't sure where to begin, if you want to ignite bible learning and heart change, then let us help you start teaching the Bible one object lesson at a time.
You CAN equip yourself with resources that are memorable, engaging, interactive, hands-on, and…FUN!
Future Flying Saucers Resources
What people are saying about
"Just wanted to say thank you a million times over for this amazing website. It has helped my children's ministry prep beyond belief. We are a rural church and curriculum is low on the list of "needs that we can spend money on", so I thank you for making bible lessons available."
"I am a homeschooling mom of two 'tweens' and a bible study leader. Since I have discovered FFS, I can't tell you how valuable it has been for us!!"
"The format is simple and the directions are clear on how to use it. It has already helped so much in the way I am able to communicate God's Word to my Children's Church class. So much so, that three kids prayed for salvation with sober hearts. I highly recommend this book!"
Thank you so much for your resources! Not only do I use these for our children's ministry, but homeschooling my children as well. The paper chain Advent Activity is amazing."
I use your site all the time! You have such a gift and I am so thankful that you are willing to share it. Object lessons make a lesson become alive and easy to remember. Thank you so much for this site."
"I LOVE her books! I've used What God is Doing for my Awana Sparks group and my daycare kids and youngest daughter at home. Her object lessons are so on point. The kids get it...the stories hit home and they remember the so well. I can't say enough except: Buy All Her Books!!!!"
What to teach next spiral?
Here are three lessons from the Gospels you can use to jump start your object lesson Bible teaching plan. All you need is a funny joke, a baby picture, a white board, and this download.