I'm not one to promote closing one's eyes, opening the Bible in any old place, pointing a finger, and *BAM* there is exactly the Truth that was needed in the moment. While I'm sure God could work that way if he so chose, I'm pretty sure he'd rather us be in the word consistently.
However, having a scripture box filled with truth treasures sitting beside your bed or on your desk is special, especially if it was given to you from a friend.
What is a Scripture Box?
A Scripture Box is a pretty gift filled with nuggets of scripture that are valuable in differing situations. The box is also filled with scripture that has been altered to hold the person's name. I have found that when I pray scripture and change it to include my own name, the Spirit becomes personal and sweet.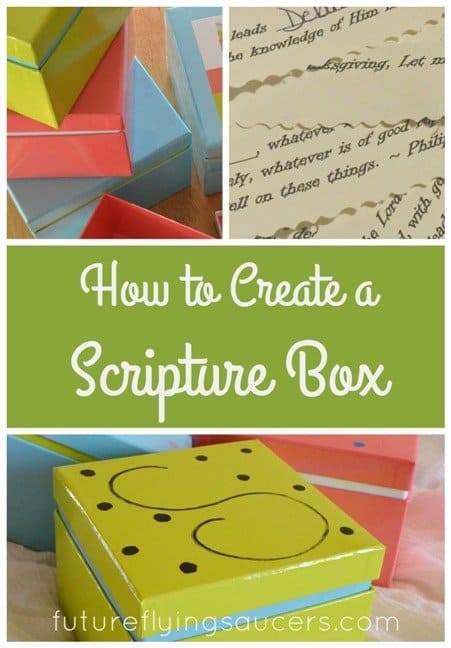 To Whom Should I Give a Scripture Box?
A Scripture Box is a perfect gift for anyone you might want to encourage. Perhaps you have been mentoring someone, or mentored yourself. I have an idea you already have a name in mind of someone who might need or enjoy such a gift.
How to Make a Scripture Box
Find a cute box. If you are a yard sale person, or go to thrift stores, keep an eye out for small tins or boxes about 5 inches by 5 inches. (Or a rectangle.) I found these

super cute boxes on Amazon

. I was making 6 Scripture Boxes, so I needed to find a good deal.
Find awesome scripture. I started with the scripture I have on my prayer wall and then added more. I then typed it all up. In certain verses, I took out the pronoun used and put a blank where I would hand write the person's name. You can CLICK HERE and print out the verses I used and write the name of your person on the blank.
Once I printed out the verses, I used

scrapbook scissors

to cut around each verse.
Then I folded each verse in half, and then half again, and placed it in the box.
I'm not super crafty, so I used

paint pens

to decorate the top and sign the inside of the top.
I made these 6 boxes for the young college ladies who are in my small group. It is my hope that on rough days they can pull it out knowing that the eternal words of the Lord will sustain them. I also hope they remember that the one who made the box loves them very much.
Who can you encourage? Make a scripture box. It's simple.
Don't forget to print out your copy of the Scripture Box Printable!