If I could choose an era in which to live, it would be the Victorian Era. I love everything about it, from the dresses to the daily routines, to the gentlemen's pursuit of the ladies, etc.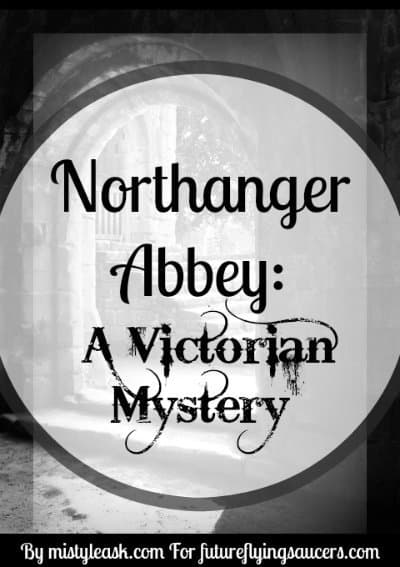 Jane Austen has been my favorite author ever since I can remember. I grew up watching Pride & Prejudice (this version) with my mom, as well as Sense & Sensibility. One of my high school graduation gifts was the complete novel set by Jane Austen. This year my personal goal was to read through all of the novels and I did it! While reading them, I found a love for another of Jane's books, Northanger Abbey.
A Look at Northanger Abbey
Northanger Abbey was the first major novel written by Jane Austen in 1798-1799, but was not published until after her death by her brother Henry Austen.
The story is about a young country girl named Catherine, who loves reading stories of mystery. She receives the opportunity of visiting Bath with some well-to-do neighbors as the wife's companion.
Being a country girl in a big city Catherine's naive personality finds her in more than one perplexing situation. She tends to trust more than she ought, compares real life situations to those in a mystery thriller and struggles with heartbreak and disappointment because of these on more than one occasion.
Catherine finds a dear friend along her journey whose handsome brother captures her heart. While visiting them at their home she finds herself cast out and sent home without a reason or a traveling companion.
Why I Love Northanger Abbey
Northanger Abbey is one of my favorite novels by Jane Austen. Aside from Victorian Era literature, I am a lover of mysteries. Finding one book with both the Victorian Era and mystery written by my favorite author was amazing.
I am a country girl myself and have been known to have a naive nature too, so I greatly identified with Catherine. I found myself understanding her confusion with other character's attitudes and actions.
5 Reasons Why You'll Love Northanger
Abbey
You'll be captivated by the beauty of the Victorian Era.
You'll be held in mystery by Catherine's thoughts and imagination.
You'll come to adore the naïve country girl.
You're sure to fall in love with the characters.
You'll find a novel by Jane Austen that resembles none other!
Teacher and Student Resources
Lesson Plans
SparkNotes has a quiz, study questions and essay topics available here.
Book Rags has lesson plans for Northanger Abbey here. (Fee Charged)
Free Study Guide from UniversalTeacher.org.uk here.
Free Lesson Plan on Northanger Abbey from BBC here.
Books and DVDs
You can download a free eBook of Northanger Abbey here.
You can purchase the book here.
Masterpiece Theatre has a recent DVD version of it available here.
Geography & Travel
I've heard wonderful things about this England tour. (The 2014 tour just ended, so keep your eyes open for the 2015 details here.)
If you're in England or planning a visit soon, there are some love abbeys you can visit. Check out some of the famous ones here.
Misty is a Daughter of THE King, Texas girl always, Navy brat at heart, loving Fisherman's wife, blessed homeschooling mother of 2, author of Beautiful Ashes and founder of Marriage, Motherhood and Missions. She is passionate about being real throughout all of life's struggles, successes and dreams. Her heart is full of ideas and passions, but the hours in her day never multiply to get it all done. Misty loves writing and reading in her spare time. Music and photography are favorite past times of hers as well. You can find her on Facebook, Twitter, Pinterest, G+ and Blog Lovin.