I am weary with my sighing; Every night I make my bed swim, I dissolve my couch with my tears. My eye has wasted away with grief; It has become old because of all my adversaries. ~ Psalm 6:6-7

Why is it that we think God can't handle our emotions? After all, he created them. Many think it is awful to question why God does certain things.
God is never taken by surprise, nor is he shocked, by anything we feel or question. In fact, Jesus told us life would be hard. Take up your cross, he said. They will mock you and persecute you because of me, he said.
It is ok for us to feel anger, anxiety, happiness, sadness, and question God when stinky things of life happen. Where we err is when we stop trusting him.
If your children are feeling certain emotions, then that is a great time to turn them to prayer. In all circumstances, we should lead our kids to go to the Lord in prayer and tell him every secret and burden.
Prepare to Pray!
Discuss with your children different types of events and the emotions they might feel. For example: winning a ballgame, losing a ballgame, nervous before a performance, anger towards a friend, bragging about a good grade…etc. Have them think about which type of emotion they might need help controlling. Are they worriers? Do they lose their tempers? Do they get depressed?
If you have younger children, you will want to choose one or two verses for them to learn to pray.
Do you have older children? Have them read through the following verses and choose one or two.
Click on the image below to print FREE PRAYER CARDS. Choose the age-appropriate printable for your children and print on card stock.
Grab a pen and write down the chosen verses, or have your child write them down.
Verses that Help Kids to Tell God How They Feel:
Questioning:
"For My thoughts are not your thoughts, Nor are your ways My ways," declares the Lord. "For as the heavens are higher than the earth, So are My ways higher than your ways And My thoughts than your thoughts. ~ Isaiah 55:8-9

Now when John, while imprisoned, heard of the works of Christ, he sent word by his disciples and said to Him, "Are You the Expected One, or shall we look for someone else?" ~ Matthew 11:2-3

On the contrary, who are you, O man, who answers back to God? The thing molded will not say to the molder, "Why did you make me like this," will it? ~ Romans 9:20
For who has known the mind of the Lord, that he will instruct Him? But we have the mind of Christ. ~ 1 Corinthians 2:16
Worries/Concerns:
When my anxious thoughts multiply within me, Your consolations delight my soul. ~ Psalm 94:19

Search me, O God, and know my heart; Try me and know my anxious thoughts; ~ Psalm 139:23

Say to those with anxious heart, "Take courage, fear not. Behold, your God will come with vengeance; The recompense of God will come, But He will save you." ~ Isaiah 35:4

'Do not fear, for I am with you; Do not anxiously look about you, for I am your God. I will strengthen you, surely I will help you, Surely I will uphold you with My righteous right hand.' ~ Isaiah 41:10

Be anxious for nothing, but in everything by prayer and supplication with thanksgiving let your requests be made known to God. ~ Philippians 4:6
Keep yourselves in the love of God, waiting anxiously for the mercy of our Lord Jesus Christ to eternal life. ~ Jude 1:21

Anger:
Then the Lord passed by in front of him and proclaimed, "The Lord, the Lord God, compassionate and gracious, slow to anger, and abounding in lovingkindness and truth;" ~ Exodus 34:6

And when he humbled himself, the anger of the Lord turned away from him, so as not to destroy him completely; and also conditions were good in Judah. ~ 2 Chronicles 12:12

Do not hide Your face from me, Do not turn Your servant away in anger; You have been my help; Do not abandon me nor forsake me, O God of my salvation! ~ Psalm 27:9

Cease from anger and forsake wrath; Do not fret; it leads only to evildoing. ~ Psalm 37:8

He who is slow to anger has great understanding, But he who is quick-tempered exalts folly. ~ Proverbs 14:29

A gentle answer turns away wrath, But a harsh word stirs up anger. ~ Proverbs 15:1

A hot-tempered man stirs up strife, But the slow to anger calms a dispute. ~ Proverbs 15:18

Do not associate with a man given to anger; Or go with a hot-tempered man, ~ Proverbs 22:24

Do not be eager in your heart to be angry, For anger resides in the bosom of fools. ~ Ecclesiastes 7:9

After looking around at them with anger, grieved at their hardness of heart, He said to the man, "Stretch out your hand." And he stretched it out, and his hand was restored. ~ Mark 3:5

Now the deeds of the flesh are evident, which are: immorality, impurity, sensuality, idolatry, sorcery, enmities, strife, jealousy, outbursts of anger, disputes, dissensions, factions, envying, drunkenness, carousing, and things like these, of which I forewarn you, just as I have forewarned you, that those who practice such things will not inherit the kingdom of God. ~ Galatians 5:19-21

Happiness:
Then on the twenty-third day of the seventh month he sent the people to their tents, rejoicing and happy of heart because of the goodness that the Lord had shown to David and to Solomon and to His people Israel. ~ 2 Chronicles 7:10

"Behold, how happy is the man whom God reproves, So do not despise the discipline of the Almighty. ~ Job 5:17

When you shall eat of the fruit of your hands, You will be happy and it will be well with you. ~ Psalm 128:2

She is a tree of life to those who take hold of her, And happy are all who hold her fast. ~ Proverbs 3:18

He who despises his neighbor sins, But happy is he who is gracious to the poor. ~ Proverbs 14:21

Where there is no vision, the people are unrestrained, But happy is he who keeps the law. ~ Proverbs 29:18

In the day of prosperity be happy, But in the day of adversity consider—God has made the one as well as the other So that man will not discover anything that will be after him. ~ Ecclesiastes 7:14

The faith which you have, have as your own conviction before God. Happy is he who does not condemn himself in what he approves. ~ Romans 14:22

Sadness:
I said to the king, "Let the king live forever. Why should my face not be sad when the city, the place of my fathers' tombs, lies desolate and its gates have been consumed by fire?" ~ Nehemiah 2:3
My soul has been rejected from peace; I have forgotten happiness. ~ Lamentations 3:17

My soul weeps because of grief; Strengthen me according to Your word. ~ Psalm 119:28

A joyful heart makes a cheerful face, But when the heart is sad, the spirit is broken. ~ Proverbs 15:13

Truly, truly, I say to you, that you will weep and lament, but the world will rejoice; you will grieve, but your grief will be turned into joy. Whenever a woman is in labor she has pain, because her hour has come; but when she gives birth to the child, she no longer remembers the anguish because of the joy that a child has been born into the world. Therefore you too have grief now; but I will see you again, and your heart will rejoice, and no one will take your joy away from you. ~ John 16:20-22

And He will wipe away every tear from their eyes; and there will no longer be any death; there will no longer be any mourning, or crying, or pain; the first things have passed away." ~ Revelation 21:4

Now Pray!
Encourage your children to not just read the words, but to pray them.
Click on the image below for all of the articles in this series.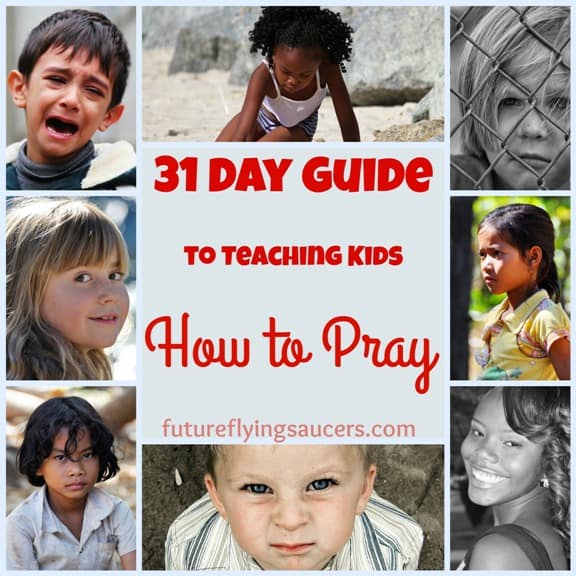 {All of these verses link to BibleGateway. If you would rather choose a different version of the scriptures, then click the link and choose the version you want.}