It might seem logical to us, however, not all people realize who they are praying to when they begin a habit of prayer. It is important for our children to understand the *Who* and the *Why* of prayer.
To Whom are We Praying?
Christians pray to God. The scriptures tell us that there is one God and that He created everything. No one created God and God will never end. God is good. God is just. God is righteous. God is perfect.
Why Do We Pray?
People are sinful. We are not eternal. We are the created and we will die one day. But we are eternal souls and God wants us to forever be with him. And so we must depend upon him. We must depend upon him for salvation.
God is our Father.
When teaching our kids to pray, we need to show by example that God is a father figure. He provides, protects, and loves his children dearly. Some children do not have an earthly father, or a good example of a father, and so their image of a heavenly Father can be skewed.
The enemy does not want our kids to have a proper realization of God. The enemy does not want us to understand God's love and power.
In Matthew 6:9, Jesus exemplified prayer for us by praying to his Father. We need to do the same.
Prepare to Pray!
If you have younger children, you will want to choose one or two verses for them to learn to pray. Think about something your child is struggling with today. Does he need to remember that God sees everything? Maybe she needs to remember that the Almighty loves her.
Do you have older children? Have them read through the following verses and choose one or two.
Click on the image below to print FREE PRAYER CARDS. Choose the age-appropriate printable for your children and print on card stock.
Grab and pen and write down the chosen verses, or have your child write them down.
Verses to Help Us Pray to the Father:
The Father is Almighty:
For this reason also, God highly exalted Him, and bestowed on Him the name which is above every name, so that at the name of Jesus every knee will bow, of those who are in heaven and on earth and under the earth, and that every tongue will confess that Jesus Christ is Lord, to the glory of God the Father. ~ Philippians 2: 9-11
The Father is All-Seeing:
The eyes of the Lord are in every place, Watching the evil and the good. ~ Proverbs 15:3
O Lord, You have searched me and known me. You know when I sit down and when I rise up; You understand my thought from afar. You scrutinize my path and my lying down, And are intimately acquainted with all my ways. Even before there is a word on my tongue, Behold, O Lord, You know it all. ~ Psalms 139:1-4

The Father Has Unlimited Love:
For I am convinced that neither death, nor life, nor angels, nor principalities, nor things present, nor things to come, nor powers, nor height, nor depth, nor any other created thing, will be able to separate us from the love of God, which is in Christ Jesus our Lord. ~ Romans 8:38-39
The Father is Eternal:
Before the mountains were born Or You gave birth to the earth and the world, Even from everlasting to everlasting, You are God. ~ Psalm 90:2
Which He will bring about at the proper time—He who is the blessed and only Sovereign, the King of kings and Lord of lords, who alone possesses immortality and dwells in unapproachable light, whom no man has seen or can see. To Him be honor and eternal dominion! Amen. ~ 1 Timothy 6:15-16

The Father Never Changes:
"For I, the Lord, do not change; therefore you, O sons of Jacob, are not consumed." ~ Malachi 3:6
Every good thing given and every perfect gift is from above, coming down from the Father of lights, with whom there is no variation or shifting shadow. ~ James 1:17

The Father is Our Abba:
For you have not received a spirit of slavery leading to fear again, but you have received a spirit of adoption as sons by which we cry out, "Abba! Father!" ~ Romans 8:15
The Father is Capable:
"I know that You can do all things, And that no purpose of Yours can be thwarted." ~ Job 42:2
"Behold, I am the Lord, the God of all flesh; is anything too difficult for Me?" ~ Jeremiah 32:27

The Father is Everywhere:
Where can I go from Your Spirit? Or where can I flee from Your presence? ~ Psalm 139:7
"Can a man hide himself in hiding places So I do not see him?" declares the Lord. "Do I not fill the heavens and the earth?" declares the Lord. ~ Jeremiah 23:24

Now Pray!
Encourage your children to not just read the words, but to pray them.
Click on the image below for all of the articles in this series.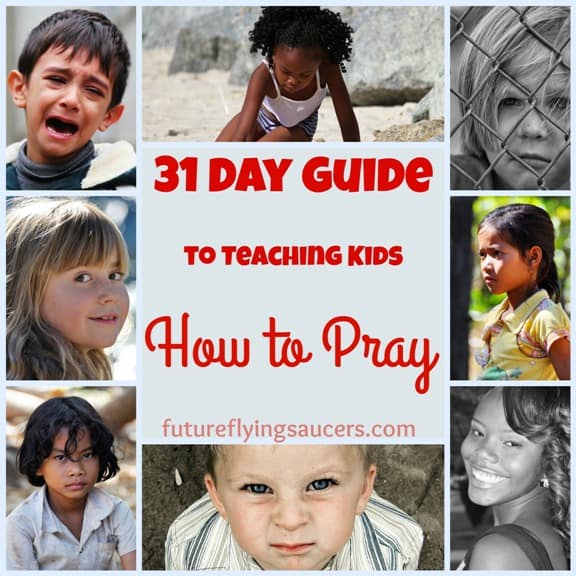 {All of these verses link to BibleGateway. If you would rather choose a different version of the scriptures, then click the link and choose the version you want.}