The King will answer and say to them, 'Truly I say to you, to the extent that you did it to one of these brothers of Mine, even the least of them, you did it to Me.' ~ Matthew 25:40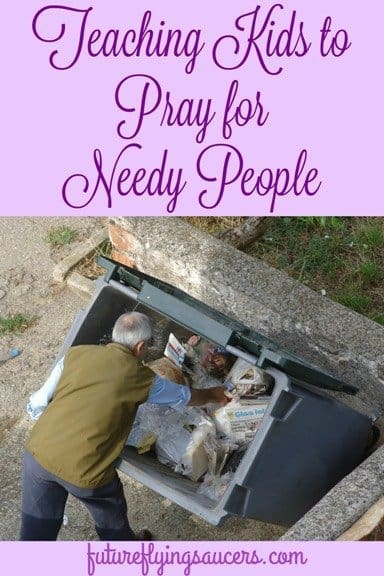 Needy people don't just come in the form of the homeless man or woman sitting on the corner these days. Sometimes the needy person is the child who was dropped off at school at 6am without breakfast and wearing shoes one size too large. Sometimes the needy person lives in the huge house on the corner which he and the wife bought back in the day and now the bank is about to repossess. Sometimes the needy person walks right past you needing only a friendly smile and you choose to look away instead.
Do needy people need our prayers? Absolutely! But this is where the rubber meets the road. This is when faith becomes tangible. This is when kids can watch God work through them to help others.
Teaching children to pray for needy people helps to build a compassionate attitude towards others. When our kids see a person in need, help them to pray for the needs to be met: shelter, food, provisions, medicine, and material needs. Then discuss what types of things you and your child might be able to do to help, if not that specific person, someone else.
Prepare to Pray!
Choose one of the following activities to do with your child or students. As you work though the activity, or before you drop something off, use one or two of the verses listed below to pray over the action you are doing and for the person who will be on the receiving end.
12 Months of Family Service Projects
Teaching Kids to Serve Others Part 2
Teaching Your Kids About Giving
And if none of those activities will work for you, try one of these:
Have your kids go through their toys and closet and find 5 items to give to a local charity.
Create a gift bag for the homeless.
Fill a backpack with school supplies and drop it off at your local public school. Tell the secretary to give it to a child in need.
Verses to Help Us Pray for Needy People:
For the poor will never cease to be in the land; therefore I command you, saying, 'You shall freely open your hand to your brother, to your needy and poor in your land.' ~ Deuteronomy 15:11

"Because of the devastation of the afflicted, because of the groaning of the needy, Now I will arise," says the Lord; "I will set him in the safety for which he longs." ~ Psalm 12:5

I commend to you our sister Phoebe, who is a servant of the church which is at Cenchrea; that you receive her in the Lord in a manner worthy of the saints, and that you help her in whatever matter she may have need of you; for she herself has also been a helper of many, and of myself as well. ~ Romans 16:1-2

And my God will supply all your needs according to His riches in glory in Christ Jesus. ~ Philippians 4:19

Our people must also learn to engage in good deeds to meet pressing needs, so that they will not be unfruitful. ~ Titus 3:14

Therefore let us draw near with confidence to the throne of grace, so that we may receive mercy and find grace to help in time of need. ~ Hebrews 4:16
If a brother or sister is without clothing and in need of daily food, and one of you says to them, "Go in peace, be warmed and be filled," and yet you do not give them what is necessary for their body, what use is that? ~ James 2:15-16

But whoever has the world's goods, and sees his brother in need and closes his heart against him, how does the love of God abide in him? ~ 1 John 3:17

Now Pray!
If you noticed some of those verses…sometimes helping others is more about our own heart change. Encourage your children to not just read the words, but to pray them.
Click on the image below for all of the articles in this series.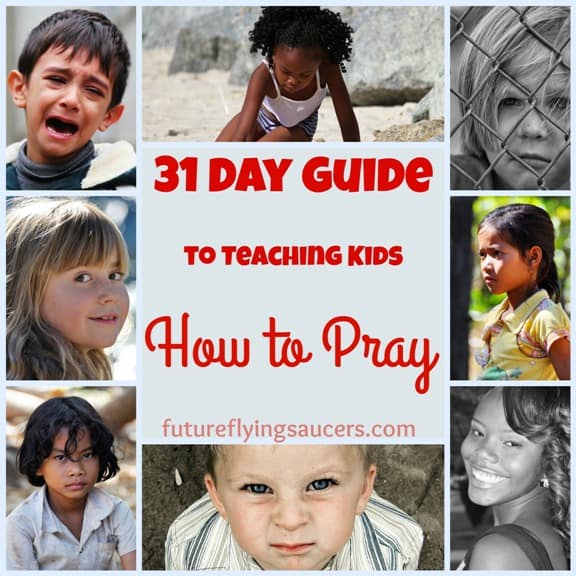 {All of these verses link to BibleGateway. If you would rather choose a different version of the scriptures, then click the link and choose the version you want.}