Keep me as the apple of the eye; Hide me in the shadow of Your wings; From the wicked who despoil me, My deadly enemies who surround me. ~ Psalm 17:8-9

**Preface – Suffering, abuse, and death are emotional and highly sensitive topics. I am no expert, but I do know my God. If you are someone who can give wisdom to others who might be dealing with these issues, then please add biblically solid counsel in the comment section. Also, if you EVER suspect abuse, please call the authorities. Thank you. ~ Anne Marie **
Suffering children can be found anywhere in the world. Walk into any local school and talk with the teachers and you will hear stories that break your heart. Children's ministry leaders deal with broken-hearted children as well. Those of us teaching Bible to kids deal with not only the hard problems, but the spiritual brokenness that comes through the hurt.
Children can suffer from:
physical, mental, emotional, or sexual abuse
diseases such as childhood cancer and diabetes
neglect and malnutrition
effects of war
divorce
death of a parent or other family member
rape
Christian Counseling is great. Medical assistance is a must. And we parents and leaders MUST prepare our children to say NO when in a situation that is uncomfortable, to stand up for themselves when someone tries to harm them, and to run away from harm to a safe adult, if possible.
Communication about Suffering, Abuse, or Death:
If a child suffers trauma, we must communicate that he is not beyond redemption. Healing of all kinds can take place! She must understand that it is OK to feel sad and cry, but to not allow bitterness to take root in her heart. When scary images and thoughts threaten to take over their minds, we can encourage them to ask God to capture those thoughts and pictures and take them away.
Why is There Suffering, Abuse, and Death?
The easy answer for why there is suffering, abuse, and death is because there is sin in the world. The complicated answer is…because there is sin in the world. Grief and sorrow have been a part of life ever since Adam and Eve made their choice in the garden. Adam and Eve had free will which allowed them to choose to eat the fruit which allowed sinful behaviors.
People today still have that same free will and people sometimes choose to hurt other people. It wasn't long until Adam and Eve had to deal with the death of their son and the fact that the other son was a murderer.
How Should We Pray Through Suffering, Abuse, or Death?
If you have a child who is suffering, be sure to talk about heaven! There WILL be an end to all suffering. There WILL be a time when people will not hurt other people. There WILL be a place where death does not exist!
Every person should be anticipating heaven and the return of Jesus. But those who deal with suffering are walking a road where desiring freedom from pain and suffering makes heaven more precious.
Why does God allow suffering? Because he loves us enough to give us free will. He allows us to either love him, or reject him. Trust him, or not. But there is one truth we must have our children always remember: ANYTHING bad that happens will turn out good in some way at the right time.
Prepare to Pray!
You know what your child is struggling with. If you have younger children, you will want to choose one or two verses for them to learn to pray.
Do you have older children? Have them read through the following verses and choose one or two.
Click on the image below to print FREE PRAYER CARDS. Choose the age-appropriate printable for your children and print on card stock.
Grab a pen and write down the chosen verses, or have your child write them down.
Verses to Help Us Pray through Suffering, Abuse, and Death:
The Lord said, "I have surely seen the affliction of My people who are in Egypt, and have given heed to their cry because of their taskmasters, for I am aware of their sufferings." ~ Exodus 3:7
Even though I walk through the valley of the shadow of death, I fear no evil, for You are with me; Your rod and Your staff, they comfort me. ~ Psalm 23:4

O Lord my God, I cried to You for help, and You healed me. ~ Psalm 30:2

Let those be ashamed and humiliated together Who seek my life to destroy it; Let those be turned back and dishonored Who delight in my hurt. ~ Psalm 40:14

For You have delivered my soul from death, Indeed my feet from stumbling, So that I may walk before God In the light of the living. ~ Psalm 56:13

God is to us a God of deliverances; And to God the Lord belong escapes from death. ~ Psalm 68:20

Precious in the sight of the Lord Is the death of His godly ones. ~ Psalm 116:15

But He was pierced through for our transgressions, He was crushed for our iniquities; The chastening for our well-being fell upon Him, And by His scourging we are healed. ~ Isaiah 53:5

Heal me, O Lord, and I will be healed; Save me and I will be saved, For You are my praise. ~ Jeremiah 17:14

The news about Him spread throughout all Syria; and they brought to Him all who were ill, those suffering with various diseases and pains, demoniacs, epileptics, paralytics; and He healed them. ~ Matthew 4:24

Those passing by were hurling abuse at Him, wagging their heads, and saying, "Ha! You who are going to destroy the temple and rebuild it in three days. ~ Mark 15:29

But when Jesus heard this, He said, "This sickness is not to end in death, but for the glory of God, so that the Son of God may be glorified by it." ~ John 11:4
For I consider that the sufferings of this present time are not worthy to be compared with the glory that is to be revealed to us. ~ Romans 8:18
But if we are afflicted, it is for your comfort and salvation; or if we are comforted, it is for your comfort, which is effective in the patient enduring of the same sufferings which we also suffer, ~ 2 Corinthians 1:6

Being found in appearance as a man, He humbled Himself by becoming obedient to the point of death, even death on a cross. ~ Philippians 2:8

That I may know Him and the power of His resurrection and the fellowship of His sufferings, being conformed to His death; ~ Philippians 3:10

For indeed he was sick to the point of death, but God had mercy on him, and not on him only but also on me, so that I would not have sorrow upon sorrow. ~ Philippians 2:27
Now may our Lord Jesus Christ Himself and God our Father, who has loved us and given us eternal comfort and good hope by grace, comfort and strengthen your hearts in every good work and word. ~ 2 Thessalonians 2:16-17

Therefore, confess your sins to one another, and pray for one another so that you may be healed. The effective prayer of a righteous man can accomplish much. ~ James 5:16

And He Himself bore our sins in His body on the cross, so that we might die to sin and live to righteousness; for by His wounds you were healed. ~ 1 Peter 2:24

And He will wipe away every tear from their eyes; and there will no longer be any death; there will no longer be any mourning, or crying, or pain; the first things have passed away." ~ Revelation 21:4

Now Pray!
Encourage your children to not just read the words, but to pray them.
Click on the image below for all of the articles in this series.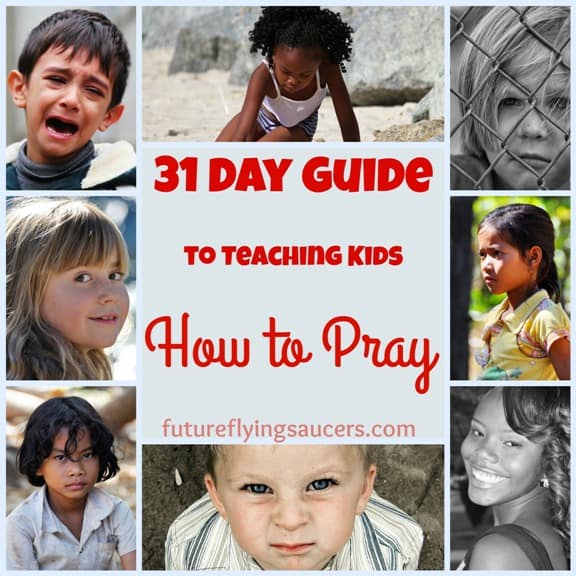 {All of these verses link to BibleGateway. If you would rather choose a different version of the scriptures, then click the link and choose the version you want.}